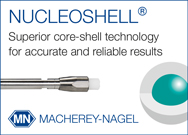 General Chromatography
Tube adapters serve many purposes. They can be used to stack one SPE tube on top of another to provide different selectivities. A larger empty syringe barrel can be stacked on top of a smaller SPE tube to act as a larger load reservoir. Or, they can serve as an adapter for positive pressure methods…

Application Nonpolar Semivolatiles

General Description Threaded nylon bushing with FETFE® O-ring. Legal Information Ace-Thred is a trademark of Ace Glass, Inc.; FETFE is a registered trademark of Ace Glass, Inc.
Site Search by