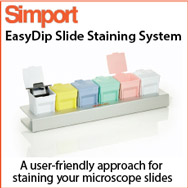 Motic
Microscopes, Motic
Motic

Elite upright biological microscope for teaching environments. Quality optical objectives Multi-layered coated CCIS® EC plan achromat offers superior color fidelity. Consistent diopter adjustment This enables perfect usage of reticles for measuring, counting, etc. …

Related Products: Motic

Motic

30° inclined Seidentopf head, 360° rotatable Reversed, quintuple nosepiece Binocular or trinocular Model B3 microscopes feature 12V/20W halogen illuminators with intensity control and focusable, centerable 1.25 N.A. Abbe condensers for critical illumination. 10X Wide Field (20…

Related Products: Microscope

Motic

Ideal for examining live micro organisms through vessel walls Color-corrected Infinity optical system Long working distance (LWD) objectives with high N.A. Binocular or Trinocular models Wide base provides strength and rigidity, while the inverted "Y" support at the back of the…

Related Products: Inverted Microscope

Motic

Compound Microscope and video camera in one package Plug and play simplicity User-friendly software Full range of accessories Motic combines advanced laboratory microscopes with high resolution CCD cameras to create digital microscope systems. The CCD camera is…

Related Products: Microscope With Digital Camera

Motic

The BA310 is designed for the rigors of daily routine work in the demanding applications of Universities, Clinics, Laboratories and many other life science or medical applications requiring quality optical performance. This model´s full Koehler configuration provides maximum illumination…

Related Products: Motic Microscope

Motic

The BA210 is designed for both educational and teaching environments from basic life sciences to medical applications. Through the Motic Infinity Optics (CCIS®), the BA210 delivers a new higher level of performance in education and training. Contrast methods like Phase Contrast, Polarization…

Related Products: Motic

Motic

Employing the Greenough stereoscopic optical system, the Motic SMZ-161 series stereomicroscopes provide you large-scale zoom ratio and the clearest image, high distortion-free and depth of field as well. SMZ-161 offers the best performance of a zoom ratio with 1:6, high resolution and long working…

Related Products: Stereo Microscope

Motic

Discover the endless possibilities and benefits of connecting a digital camera to your microscope. The "all in one box" concept will allow you to get immediately started, as you will have everything you need to begin working. Capture the perfect image through the MI Devices…

Related Products: Digital Microscope

Motic

For the most demanding applications our Moticam Pro Series, with different SONY ICX sensor resolution and technical characteristics, will fulfill all your expectations. This range includes Colour CCD imaging sensors for conventional microscopy techniques, Monochrome CCD imaging sensors for low…

Motic

Make use of the convenience and versatility of seeing a large image at 10X magnification, then zooming continuously to close-up details at 40X… or any point in between. The SMZ-140 Series offer a high optical performance combined with a complete range of stands and illumination systems. …

Related Products: Stereo Microscope

Motic

Motic is committed to the concept of continuously improving its models, especially after carefully looking at the increasing demands of its customers and their applications. The successfully established BA310 model was no exception, and for this reason Motic has launched the new Elite model BA310E.…

Related Products: Microscope

Motic

With the new SMZ171 Stereo Zoom microscope Motic proudly introduces an optically improved addition to its well-established SMZ Stereo series. New materials for ESD compatibility as well as optimized LED illumination options have been added to this series to create a versatile Stereo microscope…

Motic

Rounding out the update of our popular BA series, the BA410 is the flagship platform for expansion. Motic has launched its new upright microscope, the BA410, a newly designed, modular stand especially for routine-clinical, lab, and teaching applications suitable for a wide range of transmitted…

Related Products: Motic

Motic

Superior in design and in performance, the B Series incorporates a wide range of features designed for University and Laboratory use. Superb optical clarity and reliable mechanical engineering assure years of top performance. Achromatic or Achromatic Super Contrast objectives Coaxial…

Related Products: Motic

Motic

Motic's AE2000 Inverted Microscope is the ideal instrument for routine live cell inspection in both educational and high grade professional applications. Designed for routine-lab or clinical work, as well as the research requirements of pharmaceutical laboratories and universities, the AE2000…

Related Products: Inverted Microscope

Motic

Objectives The following accessories may be used with the DMB1, DMB3, B1 and B3 series microscopes unless otherwise noted.

Motic

The SMZ168 Stereo Zoom microscope represents the top-of-the-line model in Motic's successful SMZ Series of stereo microscopes. Designed for a wide range of biological and material science applications, the SMZ168's optical quality and versatile accessories will satisfy the most…

Related Products: Motic Microscope

Motic

The BA310POL is designed for the examination of birefringent samples from petrography and mineralogy, and can also be used for the synthetic materials industry where repeatable observations can be performed with efficiency and reliability. The BA310POL also works especially well in Educational…

Related Products: Polarizing Microscope

Motic

Our tablet microscopy solutions - Moticam BTU8, BTU10 - open a new dimension in interactivity for microscope work that will help teachers, students or any microscope user in possession of traditional microscopy material, by making it easier to visualize images and to share the microscope experience…

Related Products: Microscope

Motic

Auxiliary Lenses and Eyepieces For SMZ Series Stereo Zoom Microscopes SMZ Standard microscope sets have 10X eyepieces and a 1.0X auxiliary lens. The resulting working distance (distance from objective lens to focal point) is 80mm and the maximum field diameter (field of view) is 22mm. Auxiliary…

Motic

Stands and heads sold separately Match the head and stand that fits user's need Heads include eyepieces 45° inclined eyetubes Modular design of these microscopes allows the user to choose the head, lighting and stand configuration that best suits the user's needs. If a…

Motic

A number of accessories for different lighting techniques are available for the SMZ series. 6553J41 Polarizing kit consists of a polarizer and analyzer for simple polarization. 6553J43 darkfield condenser produces a bright image on an almost totally black background for those materials that…

Motic

The Motic K-Series incorporates a common main objective (CMO) Infinity optical system. With this Infinity optical system the K-Series delivers distortion-free, three-dimensional and parfocal images throughout the magnification range. Furthermore it allows the adaptation of a discussion bridge (DSK…

Related Products: Stereo Microscope

Motic

A multi-output camera has digital and analogue connections giving you a solution for each situation. It allows you to connect the camera to a TV monitor, projector or computer. The new multi-output model - our Moticam 580 - is even better. The reason is because it also has an HDMI output that…

Related Products: Digital Microscope

Motic

Phase Contrast Accessories The following accessories may be used with the DMB1, DMB3, B1 and B3 series microscopes unless otherwise noted. Complete Phase Kit consists of centerable five position condenser with brightfield, 10X, 20X, 40X and 100X Plan Phase objectives and corresponding phase…

Related Products: Microscope

Motic

The individual phase condensers are centerable "plug-in" type.

Related Products: Digital Microscope

Motic

Motic is pleased to present the AE2000MET, an Inverted Metallurgical microscope dedicated for the inspection of bulky materials in automotive, machinery and steel industry. Large metal pieces or die casting parts, not to be treated with an upright microscope, can easily be examined for failure…

Motic

Motic Boom Stand with Articulating Arm 75mm Maximum Thick Table Clamp 400 L x 32mm dia Vertical Pole 32mm dia Focusing Pole Mount 985mm Maximum Distance from Pole to Optical Centre For use with SMZ171 Series Stereo Microscope

Motic

Now Industrial quality control can be performed for all opaque materials like minerals and metal samples with ease and efficiency. The BA310Met also performs well in Educational environments for engineering and material professions, where affordability and ease-of-use are key demands.

Related Products: Metallurgical Microscope

Motic

Auxillary Lenses Accessories for K400, K500 and K700 Series Stereo Microscopes Field Number = Diameter of Field at 10X magnification

Motic

Polarizing Sets (6553A88 and A90) consist of Polarizer, analyzer and 360° graduated rotating table.
Site Search by